Full of vitamins
A pastille together with a fruit smoothie has become a daily ritual for our daughter since about 1 year of age. The dwarf comes every night and leaves a pastille on the table, and without them our day cannot begin. For us, bee bread is the best of what nature can offer us, full of vitamins and minerals!
Agnija Krīgere, loves bee bite for already 3 years
Healthy snack
I consider the pastilles to be a healthy snack that can be eaten after breakfast or as a small snack before training. I really like the choice of flavours, which are both natural and Latvian. Of course, I most like the "added value" of this product in the daily diet, which is very important for me as an athlete.
Līga Velvere, participant in the Olympics, Latvian record holder in the 800 m indoor running distance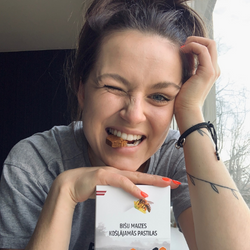 On my vitamin list for years
For me, BeeBite is a great way to take my much-needed vitamins on a daily basis. My path to eating pastilles did not start easily because I was not a fan of the taste. However, knowing the value and necessity, I learnt to eat them, after a while I got used to them and the taste became familiar and pleasant. Now my whole family already eats BeeBite, and mum is especially excited about them :) I recommend everyone to try the pastilles, because BeeBite has been on my vitamin list for several years now.
Annija Keita Sabule, Latvian biathlete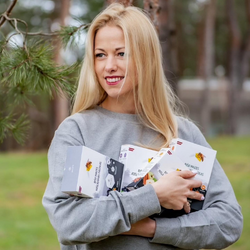 Improved my overall health
I use BeeBite pastilles every day, thus strengthening my immunity and reducing or eliminating the possibility of getting sick during winter. I love the fact that bee bread pastilles are a natural source of protein. I see BeeBite as a healthy snack that helps to improve my overall health. I have fallen in love with them in such a way that I can no longer imagine everyday life without them. 🐝
Līga Prikule, Bodyart instructor and mom of 2 wonders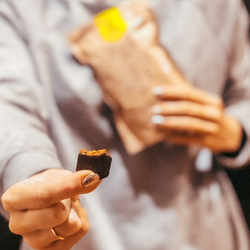 Do not cause allergic reactions
For several months now, BeeBite bee bread pastilles have been an important part of my daily routine. Although I was not the biggest fan of the taste at first, I continued to use it and after a few days the taste grew on me. My little one (2 year old) liked BeeBite right away. Since she has allergies, I am very glad that bee bread does not cause allergic reactions. I recommend BeeBite to everyone for their daily vitamins, especially those who love easy-to-use natural vitamins.
Maija Liepiņa, Tastyfood_lv creator